Cheerleading Academy raises money to sponsor care packages for deployed Marines
OSWEGO, IL. ~ The eXtreme Allstarzz Cheerleading Academy of Oswego, IL. recently raised $1,870 in a Change War Competition. The money has been donated to MarineParents.com and their Care Package Project(TM). The $1,870 will sponsor 85 care packages. MarineParents.com mails approximately 1,100 care packages to deployed Marines every 10 weeks.
FOR IMMEDIATE RELEASE
March 6, 2007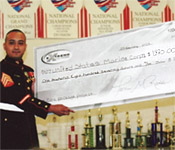 The members of The eXtreme Allstarzz Cheerleading Academy held the Change War Competition over a three week period. With eight teams participating, the members were instructed to bring their loose change to practice and deposit the change in buckets during this time. Whichever bucket held the most change at the end of the competition would be the winners of a pizza party. According to Deborah Partridge, a mom with two children at the Academy, two of the teams tied and won the pizza party. One team was the "Minis" - ages 4 through 6 - and the other was the Recreational Team. While there were also sizeable donations from parents, the majority of this money was raised by the members of the Academy, according to Partridge.
In addition to raising the $1,870 for the care packages, the members have also written letters and drawn pictures for the deployed Marines, which will also be included in the care packages.
The eXtreme Allstarzz Cheerleading Academy features six All Star Teams, two Recreational Teams who compete locally, the Minis, and a Special Needs team . The All Star teams have been featured on ESPN and compete locally and nationally. They have won 16 Grand Championships and 85 National Titles. The Allstarzz have done other fund raisers as well, including working and performing at local nursing homes.
The idea of fund raising for the Care Package Project was Partridge's. She has a son who has joined the Marine Corps. He will be going to the Marine Corps Recruit Depot in San Diego, CA. later this year. She said he has wanted to join The Corps for a couple of years and did all the footwork to join. He currently attends meetings at least weekly on a local level, as a poolie.
MarineParents.com, a non-profit organization, was founded in January of 2003 in response to parents' needs to find information and to Connect and Share(TM) with one another regarding deployments. Their free support services and connections have been expanded to include the following: Operation Pal(TM), providing support in the form of prayers and letters to injured marines; Purple Heart Family Support(TM), providing lunches to the families of injured Marines currently in the hospital; Team MarineParents(TM), continues to raise awareness through walks, runs and other fund raising events. They are a member of America Supports You, a nationwide program launched by the Department of Defense.
# # #
For more information on how you can help, go to MarineParentsInc.com